How To Write Formal Wedding Invitation Wordings Easily And Professionally
Formal wedding invitation wordings are important for your unique formal wedding theme.
It so happens that once in our lives we find love that gives us a fairy tale to dream about. If we are fortunate, marriage follows and you understandably want everything to be perfect.
One of the most important things you will need to do is have the wording on your invite match your love for each other. A well-phrased wedding invite will set the mood for your special occasion.
Wedding invitations actually convey the beginning of a couple and their new life together. This beginning has to be strong and expressive and the wording of the wedding invitations is the vehicle to make an impressive impact.
The best way to structure and write your invite is to keep it short and simple. Remember, the main reason of a wedding invite is to inform your family and guests of your upcoming wedding along with the location, date and time of your special day.
Many newly engaged brides wonder, "How can I make my wedding memorable and unique?" What is the best theme for my wedding? Let's face it every bride wants her big day to be spectacular and unique.
5 Different Samples Of Formal Wedding Invitation Wordings
Bride And Groom Host
Bride's Parents Host
Groom's Parents Host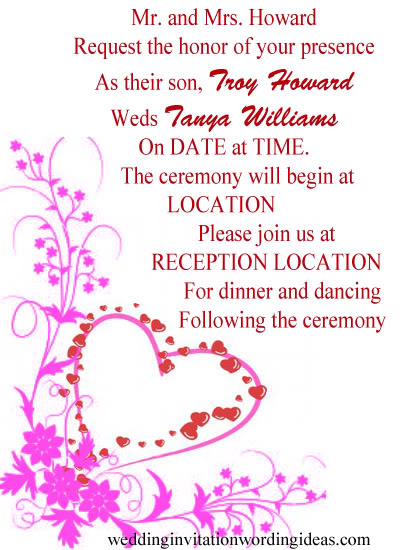 Both Bride's And Groom's Parents Host
Bride And Groom Host
This formal wedding invitation wordings sample contains RSVP information as well as the wedding location information, date & location.

The above wedding invitation cards are written 5 different ways to show you there are multiple ways you can write your formal wedding invitation wordings depending on who is hosting the wedding. The name of the host is always first with the rest of the information following.
Both the design and wording should stand out and be memorable to your guests. How do you do that? You can add love quotes, marriage quotes or simply write one or two sentences describing your love for each other and why you are such a great couple.
Types of wedding invitation wording
Wedding invitation wordings have different types depending on the type of wedding. For instance, if the wedding vows are to be taken in the church, then you might expect a very formal type of invite. When a wedding takes place outdoors on the beach or in the park, then you can expect informal wedding invitation wording.
In both cases, the wording of the invite will tell the guests what type of attire they need to carry for the big day. There are instance when the required wardrobe is mentioned in the invite and when its not, the wordings will give you a good idea of what to wear.
Another not so common type of wedding invitation is personalized one. As the name indicates, it includes wordings that are the result of creative ideas from the couple or the host. A personalized wedding invitation is cherished for a long time by the guests.
Where To Find Inexpensive Formal Wedding Invitations?
Signature white wedding invitations, Formal Damask
Signature white wedding invitations, Formal Frame
If you are looking for stylish and elegant
formal wedding invitations
that won't exceed the wedding budget than the above two formal wedding invites might be the perfect wedding invites for you.
The above two wedding invites are from wedding paper divas one of the popular and most trusted online wedding stores.
---
Read Other Related Articles
What are The Rules Of Addressing Wedding Invitations?


Stylish and Elegant Wedding Reception Card


Why Themed Wedding Invitations Are so Popular?


How To Write Casual Wedding Invitation Wordings


How To Make Your Own Wedding Invitation Card


From Formal Wedding Invitation Wordings To Wedding Invitation Wording Ideas